CMO's Commentary: THIS is just one of the reasons we have worked so hard over the past few weeks preparing to launch our frozen and freeze-dried beef company. As an America First, veteran-owned company, we know the battle over the food supply will be used against us. Whether you're in a good position today or if you're struggling like tens of millions of us, it behooves us all to store up frozen food for the near future and freeze-dried food for the years to come.
We officially launched last week and supplies of our first run are already moving quickly. Our Texas ranching partners will be slaughtering cattle on demand so we can continue with our opening sale prices as long as possible. After you read the article below by Ethan Huff, you'll find a limited-time promo code for all of our products. Here's Ethan…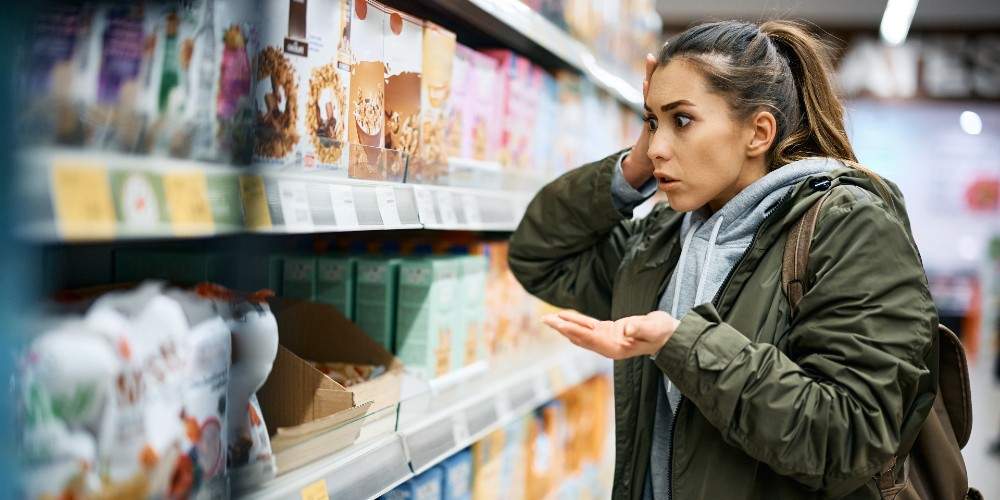 The Urban Institute released a disturbing study this week showing that one out of every four Americans now has to go without food sometimes because it is just too expensive under fake president Joe Biden.
When the Pedophile-in-Chief first assumed office in January 2021, only one in five Americans was occasionally having trouble buying enough food for proper nourishment. That figure spiked to one in four at the end of 2022, constituting a massive 23 percent increase in just one year's time.
Bidenflation caused a whopping 63.2 percent of adults in America to see their grocery costs increase "a lot" last year. The most negatively affected demographics were Hispanic and black adults, the data shows.
---

Our cows have NEVER and will NEVER receive mRNA vaccines. Our visitors can take advantage of 15% off at checkout with promo code "unjabbed15".

---
Those whose food costs spiked "a lot" in 2022 were also found to be nearly twice as likely as other adults to, on occasion, have trouble buying enough food to eat. (Related: Last summer, a handful of senators blasted Biden, warning that his "inflation bomb" would drive the American economy straight into the ground, which it clearly has.)
Biden claims inflation is going down – is his mental capability really that bad, or is he just a chronic liar?
Over the past year, food costs across the country have increased in pretty much every category. Cookies, for example, now cost 16.3 percent more than they did a year ago, while cereal has spiked in price by 15.6 percent.
Dairy products are up 14 percent today compared to a year ago, while egg prices have jumped a whopping 70.1 percent, which the authorities are blaming on "bird flu." Overall, food prices between December 2021 and December 2022 spiked by 10.4 percent, constituting a 40-year high for inflation.
All the while, the fake president continues to insist that inflation is going down under his rulership. And he is saying this at a time when Americans are now paying 8.1 percent more on their mortgages; 12.5 percent more for health insurance; 26.2 percent more for child care; 26.4 percent more to heat their homes; and 55.5 percent more to refuel their cars.
"Because of recent price increases, 62.0 percent of adults whose grocery costs increased a lot reported either reducing the amount of food they bought or not buying the kinds of foods they wanted, 43.3 percent withdrew money from savings, and 36.3 percent increased credit card debt," the study reveals. "About 16.5 percent received charitable food."
Since Biden was installed into the White House, nearly half of all American families say their financial position has worsened. This is the worst post-election outcome in 37 years, according to a February Sunday ABC News / Washington Post survey. Just 16 percent of American families say their financial health is "better off" under Biden than under previous regimes.
"Economic disruption, economic suppression, ever-tightening regulations and controls, and now forced conformity via starvation – have Americans had enough yet?" asked one commenter about this dismal news.
"Obama was 'the food stamp president.' Biden is the 'destroy America president,'" wrote another. "Whenever Democrats steal the White House, EVERYONE suffers."
To this, another person clarified that the Biden "presidency" is really just Barack Hussein Obama's third term in very loose disguise.
"His people are back in the White House finishing the 'we will fundamentally change America' agenda," said another. "Obama, Soros, and the Chinese are pulling Biden's strings."
---

Eat well today. Eat well tomorrow. That's our motto as the only freeze-dried beef supplier in America that provides high-quality Ribeye, NY Strip, and premium beef chunks for long-term storage. For our special launch, we have slashed prices. Plus, visitors can take advantage of 15% off at checkout with promo code "clean cows".

---
"The left used to launch into diatribes over Reaganomics. Now the country is faced with Bidenomics and not a peep from the left," said another about the hypocrisy of the political left.
"Groceries during the Trump era were about $80 to $100 per week. Under Biden, they now cost between $120 and $140 per week," responded someone else.
America is fast-becoming a third world country – and for many, it already is. To keep up with the latest, visit Collapse.news.
Stock up on freeze-dried beef for long-term storage and/or frozen beef for today. Use promo code "TexasBeef" at checkout to get 15% off. This is on top of the discount prices we're offering for a limited time as we launch.
Sources for this article include:
---

Whole Cows is an America First company. Veteran-owned, we will never bow to the woke mob. Take advantage of 15% off at checkout with promo code "cleancows".

---