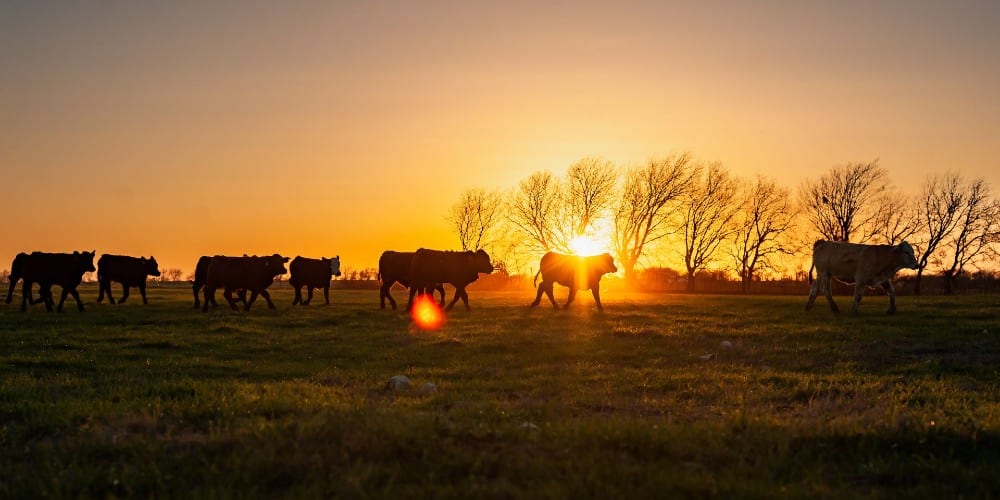 Editor's Note: We just launched the only frozen AND freeze-dried beef company in America. As we sell the first 10 cows we slaughtered this week, EVERYTHING is on sale at the lowest price they'll ever be. Use promo code "nocrickets" at checkout to get an additional 15% off the only packages in America that include both frozen beef so you can eat well today and freeze-dried beef for long-term storage so you can eat well tomorrow.
---
Declining cattle production and drought contributed to a sizable drop in beef supplies last year, the lowest in nearly a decade, according to the U.S. Department of Agriculture (USDA).
As of Jan. 1, there were 89.3 million head of cattle, down 3 percent from a year ago; and 29 million beef cows bred for slaughter in the United States, down 4 percent from last year.
"Total red meat and poultry production in 2023 is forecast to decrease for the first time in nearly a decade," the USDA said in its bi-annual livestock, dairy, and poultry outlook released in early March.
"This is due to the 6-percent decline in beef production that more than offsets forecast increases in pork (2 percent), broiler meat (1 percent), and turkey (7 percent) production."
---

Our cows have NEVER and will NEVER receive mRNA vaccines. Our visitors can take advantage of 15% off at checkout with promo code "unjabbed15".

---
The report said dwindling cattle production would likely cause a "significant year-over-year decrease in beef production, the first decline since 2015."
However, the USDA expects pork supplies to increase in 2023 after two consecutive years of decline due to higher carcass weights.
"Broiler meat production is forecast to continue its longstanding upward trends into 2023, increasing marginally over last year's record production," the report added.
"Turkey production is expected to increase throughout 2023, under the assumption that the sector recovers from Highly Pathogenic Avian Influenza outbreaks."
Of the 89.3 million head inventory, about 38 million cows and heifers produced calves in 2022, the report said.
According to the USDA, drought conditions contributed to the yearly decline in the beef cow inventory last year.
"While 2019 was the second-wettest year on record for the continental United States, after 1973, dry conditions began to persist in 2020, mostly in the West and Plains farm production regions," the report noted.
"Overall, drought has contributed to reduced pasture and range conditions, and increased beef and cow slaughter. Any changes to the current drought conditions will likely impact inventory numbers in the coming year."
The U.S. Drought Monitor reported that 41.5 percent of the continental United States experienced moderate to exceptional drought during the third week of February.
However, the agency's three-month outlook in February said those conditions could persist in more than 34 percent of the lower 48 states, "with drought development likely in 8.9 percent of the country.
---

Eat well today. Eat well tomorrow. That's our motto as the only freeze-dried beef supplier in America that provides high-quality Ribeye, NY Strip, and premium beef chunks for long-term storage. For our special launch, we have slashed prices. Plus, visitors can take advantage of 15% off at checkout with promo code "clean cows".

---
Other report findings showed that the number of milk cows had increased to 9.4 million in 2022, while the calf crop had decreased by 2 percent from 2021 to about 35 million head.
A higher forecast for beef cattle slaughter "more than offsets a decline in expected dressed weights, resulting in projected beef production being raised 165 million pounds to 26.7 billion pounds," the USDA reported. "Fed cattle prices in 2023 are raised to $162 per hundredweight on firm demand. The trade forecast for 2023 is unchanged."
Article cross-posted from our premium news partners at The Epoch Times.
---

Whole Cows is an America First company. Veteran-owned, we will never bow to the woke mob. Take advantage of 15% off at checkout with promo code "cleancows".

---