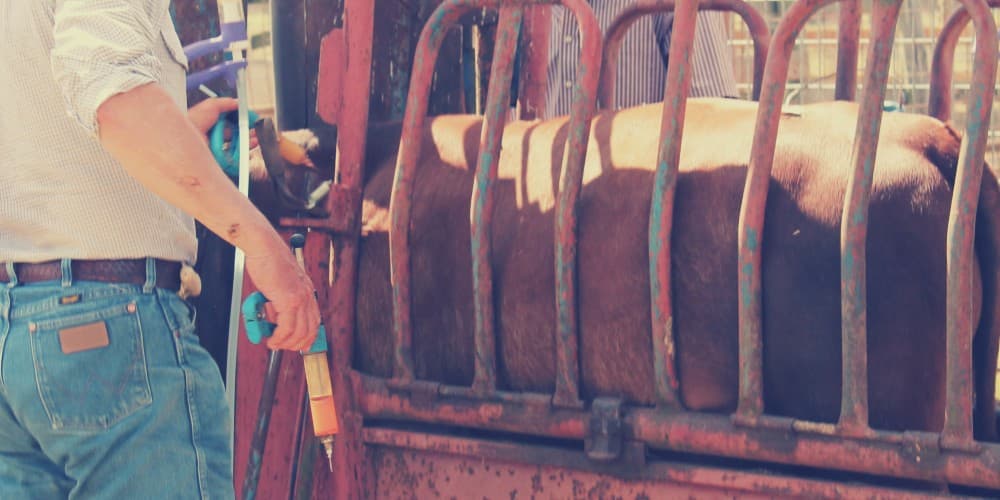 The United States Cattlemen's Association issued a statement this week acknowledging and supporting newly proposed legislation out of Missouri that would require all animal meat derived from animals given mRNA "vaccines" to be properly labeled so consumers know what they are eating.
Missouri House Bill 1169 would regulate all products sold, distributed, or administered to a person that are designed to alter their genome, which is exactly what RNA vaccines do.
"It attempts to implement a regulatory framework for labeling products that could act as 'gene therapy' or potentially impact, alter, or introduce genetic material or a genetic change in the user," reports RFD TV about the matter.
In its statement, the U.S. Cattlemen's Association affirmed that HB 1169 runs parallel to the group's goals in support of truth in labeling on consumer goods and full transparency throughout the supply chain.
"A viral tweet issued earlier this month called our attention to House Bill 1169, sponsored by Missouri state representative Holly Jones," the statement reads.
---

Our cows have NEVER and will NEVER receive mRNA vaccines. Our visitors can take advantage of 15% off at checkout with promo code "unjabbed15".

---
"Similar legislation is also being introduced in Tennessee, Arizona, and other states, with plans underway to attempt to implement a state-by-state regulatory framework for labeling of products that could act as a 'gene therapy or that could possibly impact, alter or introduce genetic material or a genetic change into the user.'"
(Related: Check out our earlier report covering data from MIT showing that RNA vaccines absorb directly into the body through the stomach and intestines.)
Beef cattle in the U.S. are not yet being given mRNA jabs, but that could soon change
The U.S. Cattlemen's Association says it "strongly supports" legislation like HB 1169 objectively based on its underlying intent, which is to provide more information to consumers so they can make informed decisions about which foods to eat and feed their families.
According to the group, beef cattle in the U.S. are not yet being given mRNA jabs – though we have received word that pigs are getting the jabs and have been for several years now.
"Currently, there are no mRNA vaccines licensed for beef cattle in the U.S.," is how the U.S. Cattlemen's Association put it – though we cannot say for sure whether or not some beef cattle are being given mRNA jabs off-label without proper licensing.
"Since little is known about the technology, our organization will be forming a task force to develop a fact- and science-based assessment of the issue. We invite all members of the beef supply chain to participate in these discussions and look forward to identifying ways through legislation, regulation, or voluntary measures to increase transparency in the development and application of livestock vaccines and other gene therapies."
Much like the rBST debate in milk from ages ago, which ultimately led to a reverse form of labeling in which rBST-free dairy products must claim on the label that rBST is "safe," the mRNA injection debate will hopefully lead to some kind of indicator on meat products showing whether or not the animal(s) received an mRNA jab.
"Consumers deserve to know how their food is produced. USCA will continue to prioritize the safety and transparency of the beef supply chain and advocate for the health and wellbeing of its consumers, as it always has," the U.S. Cattlemen's Association says.
In the comments, someone pointed out that all Americans, regardless of political persuasion, need to get educated and do their due diligence in learning about the impact of mRNA injections on life forms, whether they be cattle or humans.
"Using the mRNA, those pushing it are hoping the masses are stupid and think it is for their own good, not knowing it is part of depopulation worldwide," this person warned.
---

Eat well today. Eat well tomorrow. That's our motto as the only freeze-dried beef supplier in America that provides high-quality Ribeye, NY Strip, and premium beef chunks for long-term storage. For our special launch, we have slashed prices. Plus, visitors can take advantage of 15% off at checkout with promo code "clean cows".

---
In the age of mRNA injections, is conventional meat still safe to eat? Learn more at CleanFoodWatch.com.
Sources for this article include:
---

Whole Cows is an America First company. Veteran-owned, we will never bow to the woke mob. Take advantage of 15% off at checkout with promo code "cleancows".

---