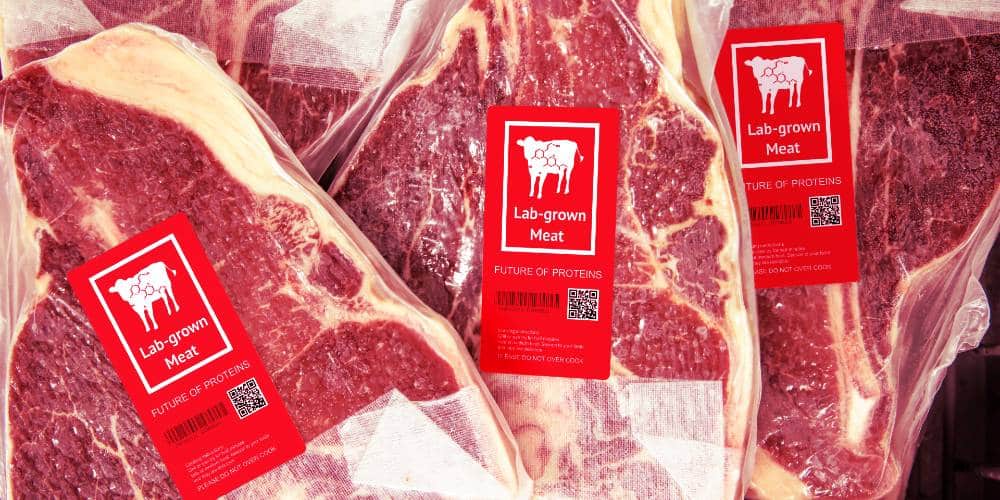 Being on a list of journalists that do interviews affords me opportunities to talk to a wide variety of people. Some public relations agencies do not differentiate between someone like me and a woke corporate media journalist. That's why I occasionally get asked to do interviews with people who I oppose ideologically, just as I did this morning.
"Within a decade, the only beef most people eat will be lab-produced," a woke vegan scientist gloated to me. "I'd go so far as to say we're being very conservative in our estimations if enough states get on board with the revolution."
This was one of many shocking quotes I received, mostly without prompting, from a scientist/ambassador for a vegan women's group that approached me for an interview. I will not be posting the name of the person I interviewed because I did it under opaque circumstances. She assumed based on what her PR company said to her that I was a "food journalist." I'm actually a conservative journalist who happens to own a beef company, but who's counting?
Nevertheless, it was all their fault. It was their PR company that reached out to me for the interview, so it wouldn't be right to embarrass them by name, nor to out the very nice but misguided vegan scientist who talked to me about it.
With that said, I was still very annoyed by what I was told.
---

Our cows have NEVER and will NEVER receive mRNA vaccines. Our visitors can take advantage of 15% off at checkout with promo code "unjabbed15".

---
"Around half the people who try it can't tell the difference from slaughtered meat and most of the ones who can tell the difference say they enjoyed it anyway," she said.
Rather than calling it "fake" meat versus "real" meat, she kept referring to it as "humane" meat versus "slaughtered" meat.
What struck me most was how certain she seemed to be about the righteousness of her endeavors. By their reckoning, those of us who bitterly cling to "slaughtered" meat need to simply be educated about all the harm we're doing to the environment as well as all the benefits of "humane" meat.
Here's a portion of the press release they are putting out later this week. I've redacted identifying information for the aforementioned reasons, but also because "who" doesn't matter. This is not an isolated condition. The people who are pushing against real meat are widespread, diverse, and growing in numbers.
The ************* is proud to announce the world's first showcase of women founders in the future of food on May 19th in **************. This showcase will allow select attendees, including press, consumers, and investors, to be among the first in the world to try lab-grown wagyu beef, mycelium chicken breast, and next-generation plant-based oysters, eggs, and sashimi. These women-founded products are not yet available on the market with many debuting to the public for the first time.
The showcase will include several innovative, women-founded brands pioneering the use of cell-cultured and plant-based alternatives. This includes **************'s cultivated wagyu burgers, **************'s mycelium chicken breast, **************'s eggs, **************'s oysters on the shell, and **************'s tuna sashimi. The showcase is an in-person extension of **************'s annual pitch competition, **************, which has reached over 1,300 women founders across 31 countries since launching in 2020. ************** and ************** are alumni of the pitch competition from past years.
"We are thrilled to debut our future of food showcase at the ************** – with a full roster of women-led products," said **************, Founder and CEO of **************. "Our goal with this showcase was to bring together the most innovative and exciting brands pioneering sustainable and ethical solutions to the food industry. Not only are we proud to be debuting these cutting-edge technologies to the public, but every single brand is led by women – in an industry full of male CEOs. Our attendees will have the opportunity to taste some of the latest and most exciting cell-cultured and plant-based animal alternatives from women founders – some for the first time in history!"
************** will bring their cultivated **************, which is a blend of plant-based meat and wagyu cells, to the public for the first time. The European-based **************, which develops whole-cut meat and seafood alternatives from mushroom mycelium, will be showcasing their clean-label chicken breasts, made of 80% mycelium and natural ingredients, while European-based ************** will be showcasing its egg alternative. ************** will be offering plant-based clam chowder and oysters on the shell, and ************** will be bringing plant-based tuna sashimi. This will be the first time all of these brands will be featured at ************** – and the ************** debut for each brand.
The press release continues, but you get the point. They're very proud to be preparing the nation and the world for their "revolution." This is all about acute wokeness as envisioned by mad scientists and climate change cultists. And it's spreading.
What makes all of this worse is that there are pieces of legislation being pushed around the country that could shield these companies from having to identify the nature of their meats. In the near future, you may be eating what you believe to be a Wagyu beef burger when in reality the meat was never actually part of a cow. It was grown, and the label may not reflect that.
---

Eat well today. Eat well tomorrow. That's our motto as the only freeze-dried beef supplier in America that provides high-quality Ribeye, NY Strip, and premium beef chunks for long-term storage. For our special launch, we have slashed prices. Plus, visitors can take advantage of 15% off at checkout with promo code "clean cows".

---
Then, there's the concern about taxes. My interviewee had "heard from a trusted ally in government" that they will be rolling out tax proposals for "slaughtered" meat that will make it cost-prohibitive to not accept the lab-grown versions.
This, perhaps more than anything else, is why we decided to launch our freeze-dried beef company. We wanted to offer Americans an opportunity to get high-quality beef from premium cuts like Ribeye, NY Strips, and Tenderloin, and store it away for a decade or longer.
Their goal is to keep us from eating meat that came from an actual living, breathing animal. It's an abomination from multiple perspectives and I refuse to participate.
---

Whole Cows is an America First company. Veteran-owned, we will never bow to the woke mob. Take advantage of 15% off at checkout with promo code "cleancows".

---