Editor's Note: As a food company, we must monitor food prices in America because we know the suffering that inflation and shortages are causing in our nation. Our concern for fast food restaurants and their customers feeling financial pain represents our empathy for those who are struggling. We do not endorse fast food. We prefer real beef. With that said, there are clearly reasons to be concerned about food security going forward, as we're learning from McDonald's…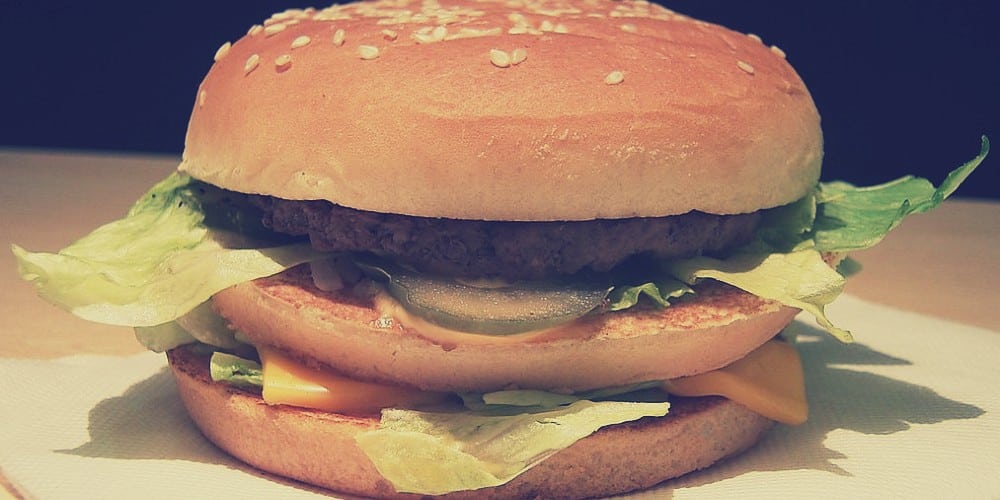 The relentless inflation that has been draining Americans' savings extends far beyond the grocery store, and one popular fast food sandwich illustrates just how much prices have risen in recent months. Although its price varies by location, a Big Mac combo meal is now selling for $16.89 in Connecticut.
Right now, the average price for a Big Mac in the U.S. is estimated to be $5.15, which is a 22 percent rise over its pre-pandemic price. Residents of Hawaii are currently paying the most, shelling out $5.31 for the sandwich alone, followed by New York at $5.23 and New Jersey at $5.19. The cheapest Big Macs can be found right now in Mississippi, where the unhealthy menu item will set you back just $3.91.
When the iconic sandwich was first launched 55 years ago in Pennsylvania, it cost just 45 cents. The sandwich features two all-beef patties, lettuce, cheese, onions, pickles and a special sauce on a sesame seed bun and is one of the fast food chain's most recognizable offerings. It is now featured at more than 38,000 McDonald's outlets throughout the world and its price has even become a topic of interest for economists.
In 1986, The Economist started the Big Mac Index to measure currencies around the world using the price of a Big Mac in America as its comparison point. Inflation has driven up the cost of food across the board in the last few years, with the price of not only ingredients but also packaging and fuel all playing a role in the soaring expense of food.
---

Our cows have NEVER and will NEVER receive mRNA vaccines. Our visitors can take advantage of 15% off at checkout with promo code "unjabbed15".

---
One TikTok user recently exposed a particularly overpriced Big Mac at a Connecticut McDonald's, where the menu in the footage clearly states that the price of a Big Mac combo is $16.89, while the price for a chicken sandwich combo ranges from $16.69 to $17.89.
In the video, the narrator can be heard shouting, "Y'all remember them stimulus checks that they gave out? Thought you was getting away with that stimulus money, huh? They want it back!"
The reactions to the video expressed outrage and disbelief, with the general consensus being that this unhealthy, chemical-laden combination of a sandwich, soda and fries is not worth nearly $17.00. One commenter noted that the meal was not worth it even when its price was closer to $8.
Although the user conceded that they were at a rest stop location, where the prices do tend to be higher, McDonald's prices have indeed been climbing without providing additional value to consumers.
McDonald's is laying off corporate employees as part of wider restructuring
In addition, the fast food chain has been reducing some employees' pay and titles as part of a restructuring that will see hundreds of workers lose their positions. Last week, they closed their offices for a few days to hold career conversations with their corporate employees, telling them to work from home so they could be informed of staffing changes virtually. Some were reportedly told they could hold onto their jobs by agreeing to reduced pay, cuts to their benefits, and changes to their position or title.
Earlier this year, McDonald's announced that it would be cutting corporate jobs and eliminating some initiatives despite opening a series of new stores. The jobs that are being cut are largely on the corporate side, while the restaurants themselves are still struggling to fill openings.
Meanwhile, McDonald's U.S. President Joe Erlinger announced that the firm would permanently close all 10 of its field offices throughout the nation, citing high costs and underutilization. And while it is not surprising to see a company that serves unhealthy food at elevated prices struggle, it's part of an unfortunate broader trend of corporate layoffs that could lead to a major economic meltdown.
Sources for this article include:
---

Whole Cows is an America First company. Veteran-owned, we will never bow to the woke mob. Take advantage of 15% off at checkout with promo code "cleancows".

---