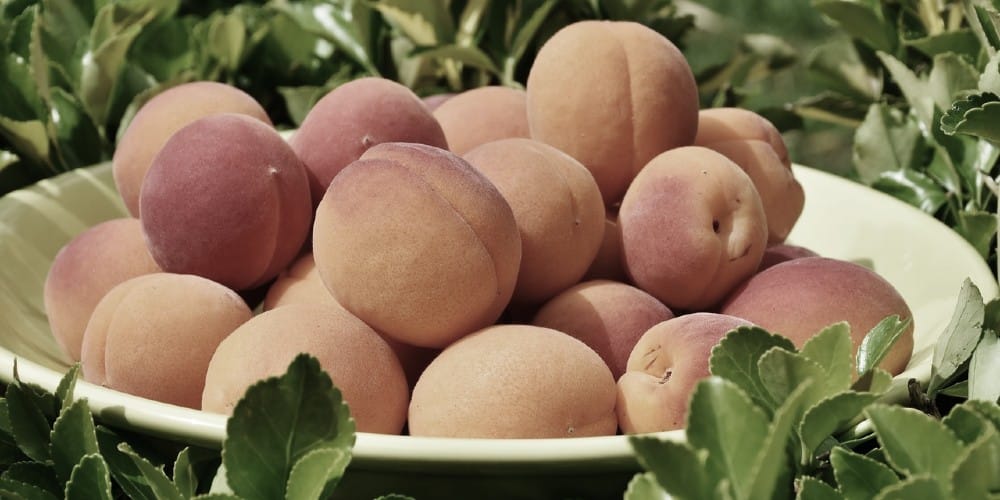 If farmers and ranchers don't produce enough food, we don't eat.  So we should always be very thankful for our hard working farmers and ranchers.  Unfortunately, farms and ranches all over the United States have been hit by a string of disasters in recent months, and as a result food production has taken a turn for the worse.  So does that mean that we should expect that there will soon be shortages of certain items?  Unfortunately, it appears that is likely to be the case.  For example, it is being reported that approximately 90 percent of Georgia's peach crop for this year has been destroyed…
Summer is around the corner, and in Georgia, summer means peaches.
But horticulturists at the University of Georgia say roughly 90% of the Peach State's crop has been destroyed by bad weather and a warming climate.
The last time things were this bad was 1955, according to Lawton Pearson of Pearson Farm in Fort Valley, Georgia.
I really love a good peach.
But if you want to sink your teeth into some fresh peaches in the months ahead, they won't be coming from Georgia…
So don't count on sinking your teeth into a peach from the Peach State anytime soon.
"Not Georgia peaches," Pearson says. "I don't think you'll see Georgia peaches in the grocery store."
Perhaps you are thinking that we will just eat more oranges instead.
Unfortunately, it is being projected that a combination of factors will cause Florida's orange harvest to be 56 percent smaller this year…
Florida's citrus industry posted its worse harvest since 1937, which should give orange fans some pause at the supermarket.
Damage from the 2022 hurricane season, combined with the impact of citrus greening disease, is ravaging the Sunshine State's orange crop.
This will likely cause citrus prices to skyrocket nationwide, as Florida farmers recorded its smallest orange harvest in 90 years, according to the state's latest agriculture report.
The U.S. Department of Agriculture said in January that only 18 million boxes of Florida oranges would be on the market in 2023, a 56 percent drop from last year.
I think that there will still be Florida orange juice in the stores.
But I also think that it will cost a lot more.
Meanwhile, there is grave concern about the winter wheat harvest in the middle of the country.
At this point, the drought has been so bad that over one-fourth of all winter wheat in the state of Kansas might not even get harvested…
Month after month without enough rain has made Kansas the epicenter of a stubborn drought covering parts of the Great Plains.
While the drought that plagued almost the entire western half of the U.S. last year has relented, it has only gotten worse in Kansas. The state is experiencing the most severe drought in the country and its worst in a decade.
If rains don't come soon, more than one-quarter of the state's wheat fields could be in such dismal conditions farmers don't even harvest them, according to Kansas Wheat.
If you like to eat things made from wheat, this should greatly concern you.
At the same time, supplies of beef are becoming tighter as well because the size of the U.S. beef cow herd is now "the smallest since 1962"…
Now, the U.S. beef cow herd is the smallest since 1962. Drought and high feed costs drove producers to send animals to slaughter instead of keeping them for breeding. Farmers who fatten cattle have gained leverage in sales negotiations over the meatpackers that dominate the market, such as Tyson Foods Inc (TSN.N), Cargill Inc (CARG.UL) and JBS USA (JBS.UL).
Over the past couple of years, I have written so many articles about the relentless megadrought that has plagued the western half of the country.
I warned that this endless drought would cause enormous problems for food production, and now that day has arrived.
The good news is that there is not going to be famine in the United States in 2023.
We are still going to have enough food to eat.
But without a doubt food supplies are getting tight, and famine has started to erupt in many of the poorest parts of the globe.
Of course food is not the only thing that is in short supply.  It is being reported that drug shortages in the United States are "approaching record levels"…
Thousands of patients are facing delays in getting treatments for cancer and other life-threatening diseases, with drug shortages in the United States approaching record levels.
Hospitals are scouring shelves for supplies of a drug that reverses lead poisoning and for a sterile fluid needed to stop the heart for bypass surgery. Some antibiotics are still scarce following the winter flu season when doctors and patients frantically chased medicines for ailments like strep throat. Even children's Tylenol was hard to find.
We are in the process of transitioning from an era of plenty to an era of scarcity.
For most of us, going to the store and getting whatever we want has never been a problem. But now conditions are rapidly changing, and the entire world is competing for steadily diminishing resources.
At the same time, global food production is being hit by drought, disease, natural disasters and incredibly crazy weather patterns. As I detail in "End Times", severe global famine is inevitable this century.  No matter what choices are leaders make now, it is just a matter of time before global demand for food greatly exceeds global production of food.
Most of you that are reading this live in wealthy countries, and wealthy countries will have the resources to purchase most of the food that is actually produced.
But even though wealthier countries will fare relatively better than poorer countries, the truth is that everyone will suffer. So I hope that you are preparing for the challenging times that are ahead, because they will shake our society to the core.
Michael's new book entitled "End Times" is now available in paperback and for the Kindle on Amazon.com, and you can check out his new Substack newsletter right here.
Article cross-posted from End of the American Dream.